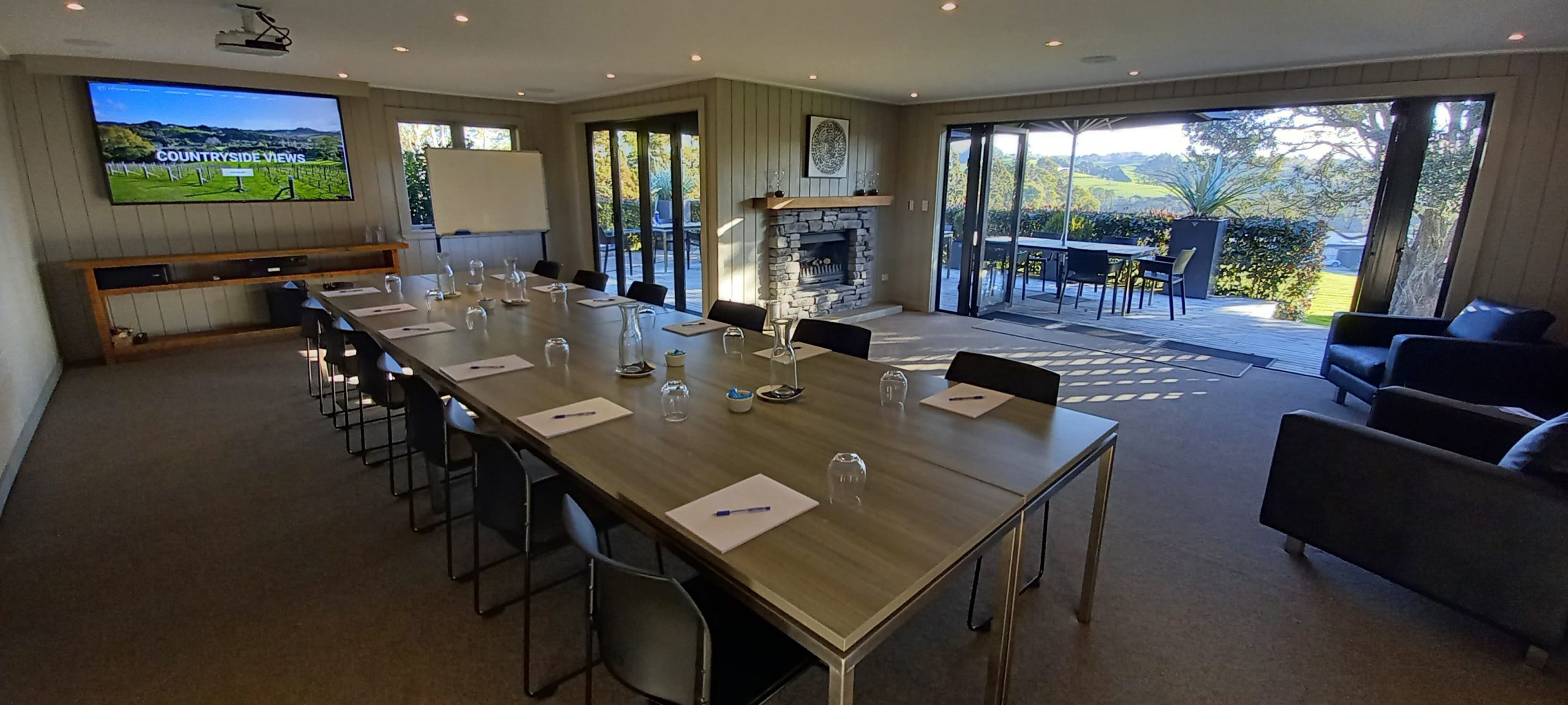 Riverside Matakana's Conference Venue and 17 luxury Baches accommodate groups of up to 34 people comfortably. The environment is conducive to both formal and informal meetings, presentations and other events. Your guests will enjoy our spacious modern facilities and deck areas overlooking the vineyards and river. The mood is tranquil, rural and relaxed.
As part of our all inclusive Conference Rate, we supply Morning Tea, Lunch and Afternoon Tea. Catered breakfasts can also be provided.
Also included in the Conference Rate is : dedicated Personal Assistant/Waitress, wireless broadband internet, data projector and screen, 4k 88″ Smart TV/Data screen, manual whiteboard and flip charts, pads, pens, tea, coffee, mints etc.
Each guest Bach has a writing desk with Wireless Broadband Internet connection available with dedicated telephone lines, so you can take care of business from the comfort of your room.
Your Riverside Matakana PA can provide a range of other business services to assist you with any other business requirements you may have.
For evening dining we recommend getting out to one of Matakana's many popular restaurants. We can arrange reservations and transfers to make your Matakana food and wine experience seamless.
For further information and details of our Conference Rates please email us at host@riversidematakana.co.nz.
Conference Accommodation in Matakana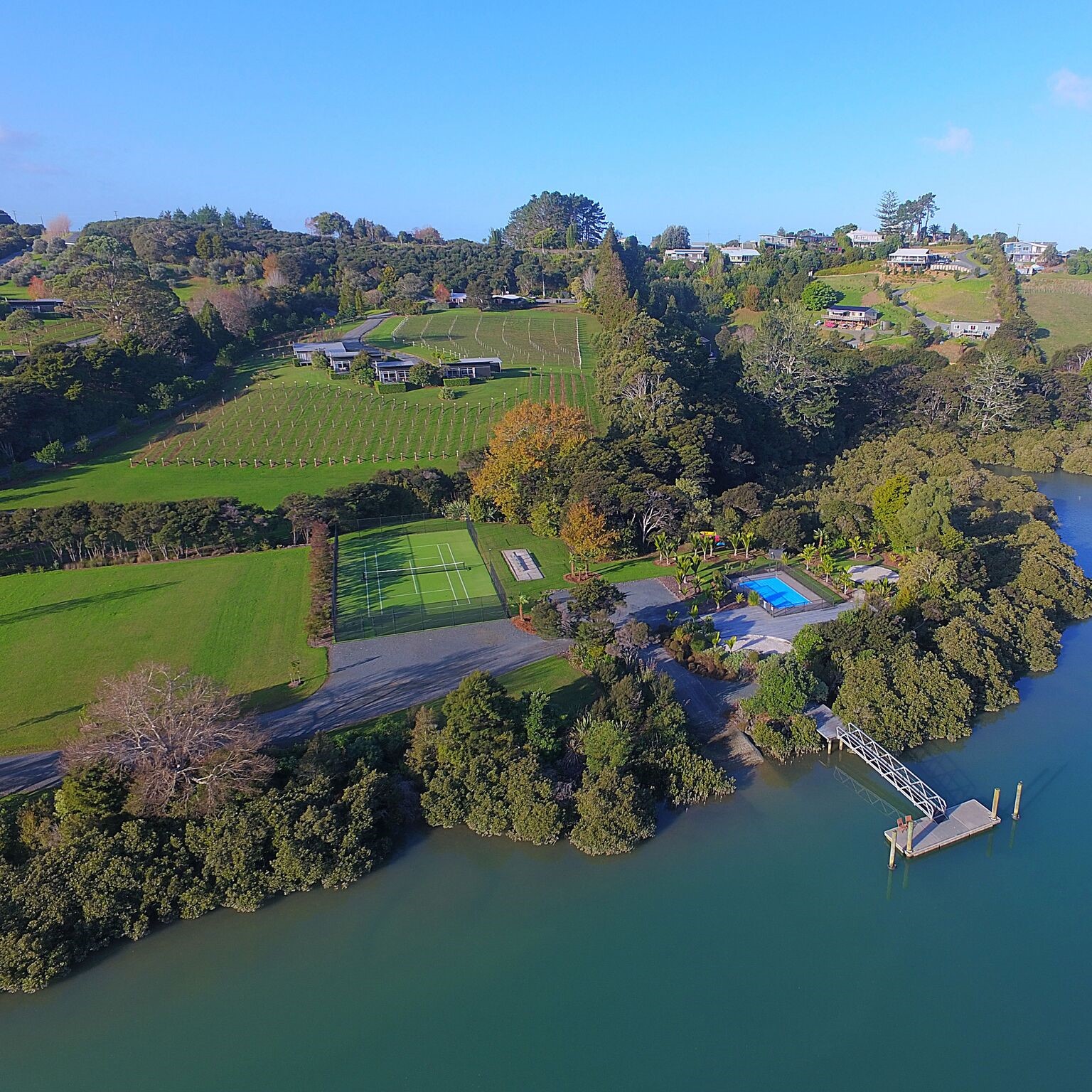 Book Conference Accommodation in Matakana
We provide on-site conference accommodation with our 17 luxuriously appointed Baches. Our self-contained Baches each have two bedrooms and two bathrooms and can comfortably accommodate teams of up to 34.
Our Bach style accommodation is spread across the grounds of the conference venue to provide both privacy and convenience. Your team can wander to the jetty for to enjoy the views, or play tennis and swim in the heated pool after the day's conference and workshops are over.

Corporate Client Testimonials
"The team had the most incredible experience; all of them were blown away at how great the food and accommodation was. The team came back feeling very grateful to have been able to experience the workshop in such a beautiful location. Once again, thank you so much for being so great to work with, and helping make our Leadership camp such a great experience for our new Managers."
"We stayed at Riverside for our Trustee Workshop, and enjoyed it immensely. Cosy, quiet and inviting, yet modern, the staff were friendly and accommodating, the food was divine and technology was up to date and easy to use. Both our staff and Trustees gave great feedback about the service, location and the food. We will definitely come here again in the future, and recommend to anyone for an overnight stay, workshop or conference."
I have recently returned from a highly successful overnight conference held at Riverside Matakana. The conference room opens out onto a nice deck with outdoor furniture, great for the break times. The accommodation was very clean and spacious with all the amenities you would need. The two bedroom units had a large lounge, kitchen and dining area and both bedrooms had private separate en-suites. The food provided was a good variety and very tasty. Riverside arranged for a bus to transfer us all to our Dinner venue, so we enjoyed a pre-dinner drinks and nibbles on the deck looking out over the vineyard and property. I highly recommend this venue for a conference, weekend getaway for couples and families. Michael, Suzie and their team were incredible and very accommodating to work with.
It really is the staff that make a retreat the best experience - Special thanks to Mike, Tralese, Lorna and Suzie. The attention to detail was so amazing, I really didn't have to think of anything. Every time I had a question or request it was answered quickly and with a no hassle attitude. Obviously the venue itself is stunning and I can't wait to come back. If you are a small business owner, this place is the venue for you!
Wonderfully peaceful location and perfect for our business workshop. The chalets are cleverly designed, providing privacy with bedrooms at either end and a central communal living area which was ideal for our purpose. Michael was full of useful knowledge and a genuine and natural host. This will definitely be our regular retreat of a choice.
Corporate Team Building in Matakana
For a challenging affair, we offer a wide range of exciting corporate team building activities nearby at Action Matakana – see www.actionmatakana.co.nz or view the links below for a wire range of team building options.
Whatever activity it is that you require out of the conference room, we can arrange something to suit.