Room Details
Riverside Matakana Baches have a unique flexible design which allows us to configure the sleeping and entertainment layout in your individual Bach to suit your personal requirements. Each Bach is fully furnished and equipped to a very high standard.
Typically the New Zealand Bach is a simple building form using basic indigenous materials. Design is flexible and encourages informal living. Riverside Matakana Baches are no exception! Designed by renowned New Zealand architects 'Architectus', there is a free-flow between indoor and outdoor spaces. Expansive decks on both sides mean that outdoor dining and barbecuing is possible year-round. Above all, Riverside Matakana self-contained luxury Baches provide a very Kiwi holiday experience – with beautiful relaxed spaces set in stunning surroundings.
Floor Plan – King Bed, Queen Bed, 2 bathrooms (plus 2 Singles in the attached sleep-out).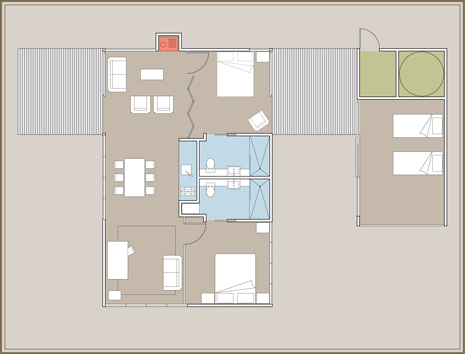 Rates shown are for 2 adults. Each cabin comfortably accommodates up to 4 adults and 2 children. Extra adults are $75 pp/pn and extra children aged 3-12 years are $45 pp/pn. Infants are free. Sorry, no pets.
Amenities
2 car parks plus guest parking
Air conditioning & Heat pump
Heated Pool 24th Sep - 3rd June
LCD TV in living and master bedroom
Two fully tiled bathrooms (no bath)